sarah ingel +
Sarah is a Charlotte based dance artist, and performance maker. Utilizing improvisation, choreography, theatre and design to make works for both site specific installation and the stage, her work cultivates intimate and meditative spaces for audiences to engage with their own experiences of authenticity, vulnerability and humanity. Sarah graduated high school from the North Carolina School of Arts then received her B.F.A. from Hollins University in partnership with the American Dance Festival. She has had the privilege of working with artists including Sidra Bell, Ivy Baldwin, Douglas Becker, Leah Cox, Ishmael Houston-Jones, John Jasperse, Helen Simoneau, Vanessa Voskuill, and Jesse Zaritt. Sarah works behind the scenes at Charlotte Ballet, as the Assistant Stage Manager, Shoe Manager, and as a Costume Technician. She has been an artist in residence at Goodyear Arts since 2015, and has been with the collective through all three locations (Stonewall, College, and Camp North End). Sarah is co-director of repCLT, a North Carolina non-profit organization advocating research and exchange in performance. She also is co-founder/co-producer of ladyfestCLT, which promotes dance and female makers in the Southeast region.
Utilizing improvisation, choreography, theatrical elements and technical design, I make contemporary dance and performance for both site-specific installations and the stage. My work cultivates intimate and meditative spaces for audiences to engage with their own experiences of authenticity, vulnerability, and humanity.
Considering the body and movement as a medium that holds memory and history, past and present structures, cultural and contemporary mythologies, I ask questions and my body moves to answer. My work focuses on effort, endurance, repetition, and symbolism in movement, while remaining emotionally virtuosic and physically technical. I aim for my work to be impressive, as in leaving an impression.
My work explores how diverse identities experience common sentiments, and the dynamics of emotionally intimate relationships. Simultaneously, my work re-contextualizes contemporary mythology and pop culture from a feminist perspective. My performance questions hierarchy: who has access to physical space and how it should be used. I aim to create performances that at once challenge and dismantle existing structures while creating new contexts for familiar experiences.
Art has culturally and historically been a catalyst for change, and artists have a responsibility to create work that speaks to their community. Performance and dance are acts of resistance in their very nature: battling gravity, the body's natural structures, the social norms and definitions of "acceptable" movement. By displacing and disrupting form while continuously re-framing our surrounding architectures, we engage in politics of the body and space.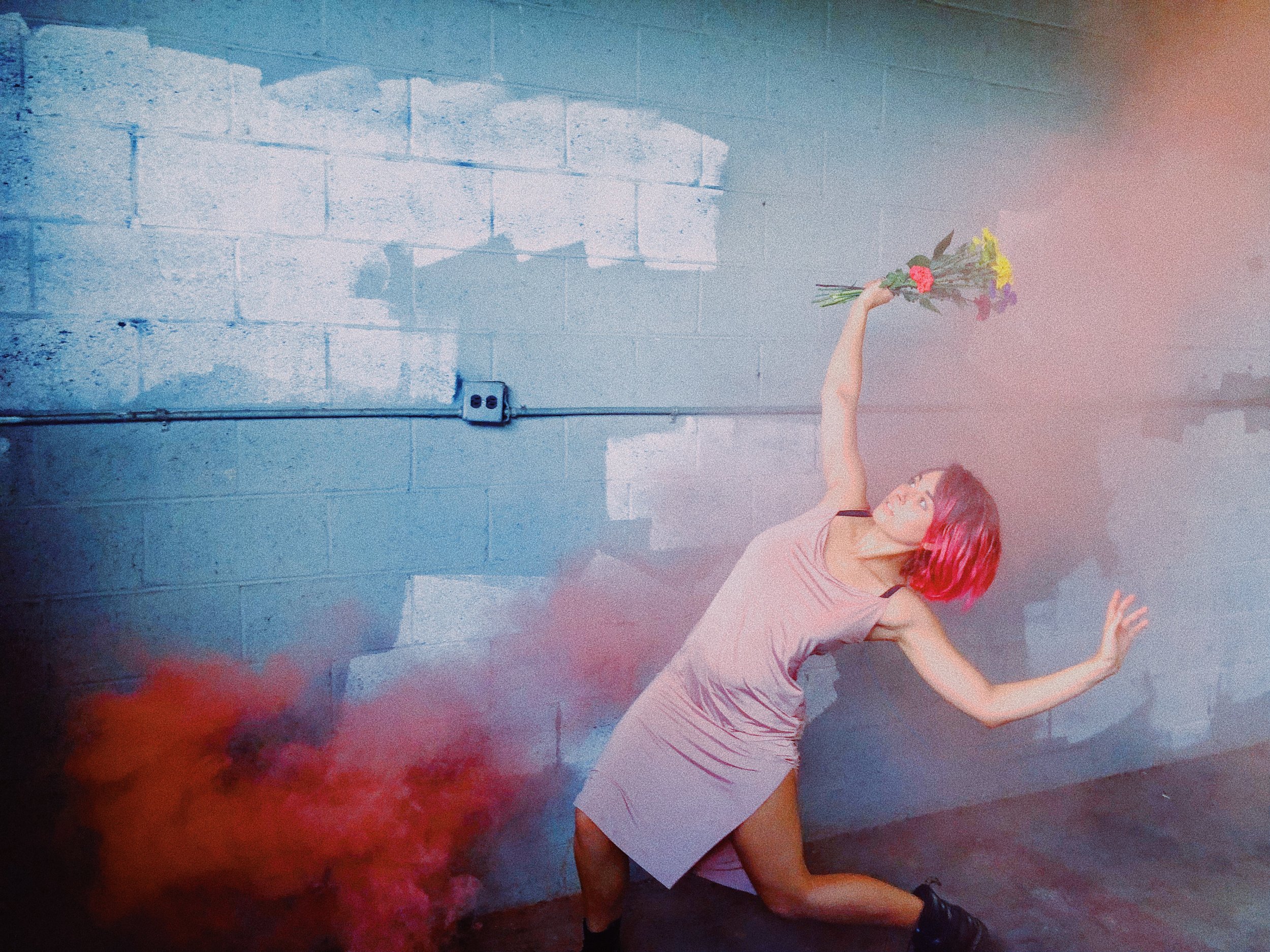 Photos by Nic Blankenship, Aspen Hochhalter, Taylor Jones, Devin Kelley, Andy Smith and Enid Valu